Hi Everyone!!
There are some amazing sales going on online in India. Since I will be visiting home soon, I wanted to buy a few things in advance that I will be needing over the course of next few months. So while I was browsing through the website I found some amazing deals and will share with you in this post.
Nykaa.com
Nykaa
will be having their
Great Nykaa Sale
from 2 June to 4 June. Everything will be Flat 25% off. So that is a great time to buy some goodies from their website.
MedplusBeauty.com
There are a few deals on
Purplle.com
. I placed an order today for some hair care stuff that was not available on the above mentioned websites. But I got a 10% off for my entire order so that made me happy. Plus there is a Lakme Coupon code that you can use to get Rs 100 off on purchase of Rs 750, which is not bad.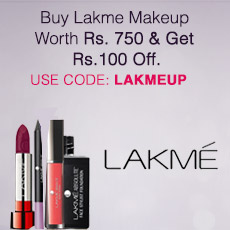 Since the sales are amazing you definitely have a reason to splurge and stock for summers and maybe even for winters. Do share in the comments section below what you plan to buy if you do so.
Love...
❤❤❤❤❤❤❤❤❤❤❤❤❤❤❤❤❤❤❤❤❤❤❤❤❤❤❤❤❤❤❤❤❤❤❤❤❤❤❤❤❤❤❤❤
*****Disclaimer: This an informational post and I am not affiliated with any brand.*****